Google Search: Paid vs Organic Results
Google AdWords offers you the right audience at the right time. Your business gets found by people on Google when they search for the products and services that you offer. And you only pay when they click to visit your website or call.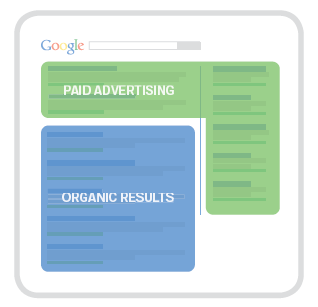 AdWords is a paid advertising program by Google. When you perform a Google Search, both the top-section and the right-side of results pages are often populated with sponsored search results. These are paid ads and are charged to the advertiser on a pay-per-click basis.
The cost to run these ads depends on who else is running ads at the same time. For example, if your competitors are also buying AdWords the price per click will be higher. This is because the ads displayed at the top of the page are allocated to the highest bidder. If your company is willing to pay the highest price, you will get the top placement.
For some of our customers, Google advertising works really well and the monthly cost to run the ads is offset by the number of new leads or sales generated.