Please Note: The following instructions are for setting up an email account that is hosted by Airdrie Web. If your mailboxes are hosted by Google or Outlook365 these instructions will not apply.
Using Webmail
Your email messages are always accessible via webmail and can be viewed at https://mail.hostedemail.com/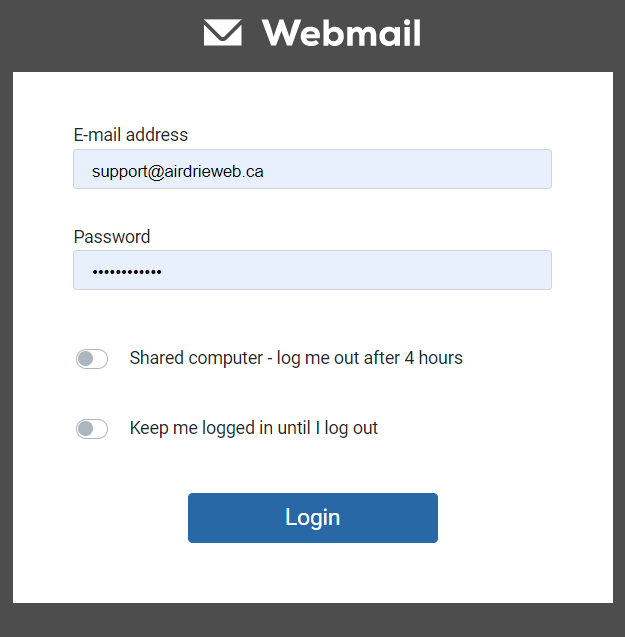 Setting up emails on your phone or computer
It's easy to setup an email account on your computer using a mail program such as Microsoft Outlook. You can also setup your email on your phone or tablet. If you are having issues getting connected, you may need to adjust the email settings manually.
INCOMING MAIL (IMAP)
Incoming Server: mail.hostedemail.com
Incoming Port: 993
Encryption: SSL/TLS
OUTGOING MAIL (SMTP)
Outgoing Server: mail.hostedemail.com
Outgoing Port: 465
Encryption: SSL/TLS
Select: Outgoing server requires authentication
When your mailbox is setup, send yourself a test message
Send an email to/from yourself and then check your email inbox to see if you have received the message. This is the easiest way to check if you are sending and receiving correctly. You can use another email account such as Gmail or you can send and receive from the same email address.
Resetting your email password
To reset your email password, login to your account via webmail: https://mail.hostedemail.com
Once you are logged into your mailbox, click [Settings] located at the bottom of the left side menu, then [Password].
Click on [Change Password]. You will be prompted for your current password and a new password you would like to use. Enter this new password twice to verify the change and [Save] the changes.
If you are not able to login to your webmail account or you do not know your current password, contact support@airdrieweb.ca to request a password reset.
Still need help?
If you have followed the instructions carefully and still are not able to setup your emails, please send a copy of the error message and your current incoming/outgoing mail settings to support@airdrieweb.ca.
We do not provide active support for your phones and other devices. We will look at your screenshots to see if we can identify the problem, however the setup of your computers, tablets, phones, and other devices are your own responsibility.
We suggest you hire a local IT service to help you get your devices setup and syncing correctly. If you decide to do that, be sure to provide them with the link to this page and have your current passwords available.
Hosted Email Service to be discontinued at the end of this year:
As of December 31, 2023 we will no longer be offering our Hosted Email Service. For more information please contact support@airdrieweb.ca